Company D,
97th Engineer Battalion (Construction)
History Page
HISTORICAL HIGHLIGHTS
The 97th Engineer Batallion (Construction) under the command of Lieutenant Colonel John H. Carlson will celebrate the 28th anniversary of its activation on 29 September 1961.

First constituted on 1 October 1933 on the Regular Army list as the 56th Engineer Battalion (Separate), and redesignated the 97th Engineer Battalion (Separate) in January 1938, the battalion was activated on 1 June 1941 at Camp Blanding, Florida.

During World War II the battalion was again redesignated as the 97th Engineer Regiment (General Service) and, as such, was engaged in the construction of that portion of the Alcan Highway between White Horse, Canada and Fairbanks and the road between Slana and Big Delta in Alaska.

Upon completion of the northern highway the Regiment returned to the United States and prepared for movement to Australia, then on to New Guinea where the Regiment won battle honors (the Meritorious Unit Streamer) in support of the combat units and engaged in many large scale construction projects.

In 1946 the 97th Engineers were again redesignated as a battalion and moved from New Guinea to the Philippine Islands where they engaged in construction of the vast Camp Angeles complex.

Following a brief period of inactivation between March 1948 and September 1950, the 97th Engineer Battalion (Construction) was located at Fort Leonard Wood, Missouri where preparations were made for movement to France.

In 1951, the 97th Engineer Battalion arrived in the Toul area, and later components of the battalion moved into their present locations: Headquarters and Headquarters Company, with Company C, in the Verdun-Etain area; Company A at Vassincourt; while Company B remained at Toul.

The primary mission of the 97th Engineer Battalion (Construction) is the construction, re- habilitation and maintenance of facilities in the communication zone and the rear area of the combat zone.

The 97th Engineer Battalion takes great pride in their accomplishments and the improve- ments they made to the many installations of Eastern France and in their motto, which appropriately enough, is "NO TASK TO GREAT."
A LOOK INTO THE PAST: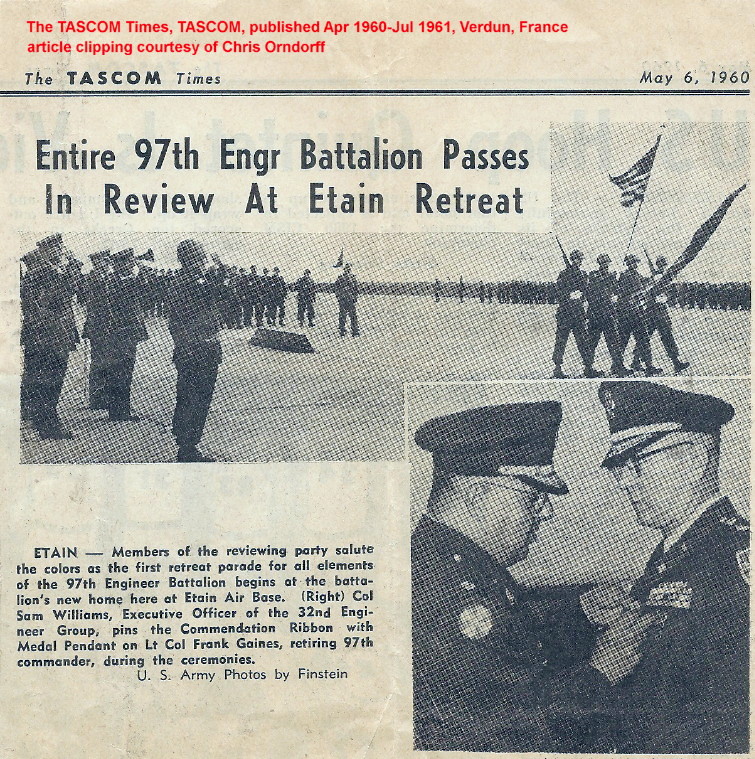 ---
Unit personnel accounts:
Chris Orndorff, 1960—62
Chris pulled out an old document that might interest those who recall the days of our youth, especially when you began to think about the consequences of newly printed movement orders that said you were going to a foreign country. So many questions, and where was this place called France to youngsters like us. Well, someone decided it would be a good thing for our young men to have—a "briefing sheet" to answer all those unanswered questions. Read it, and reminisce: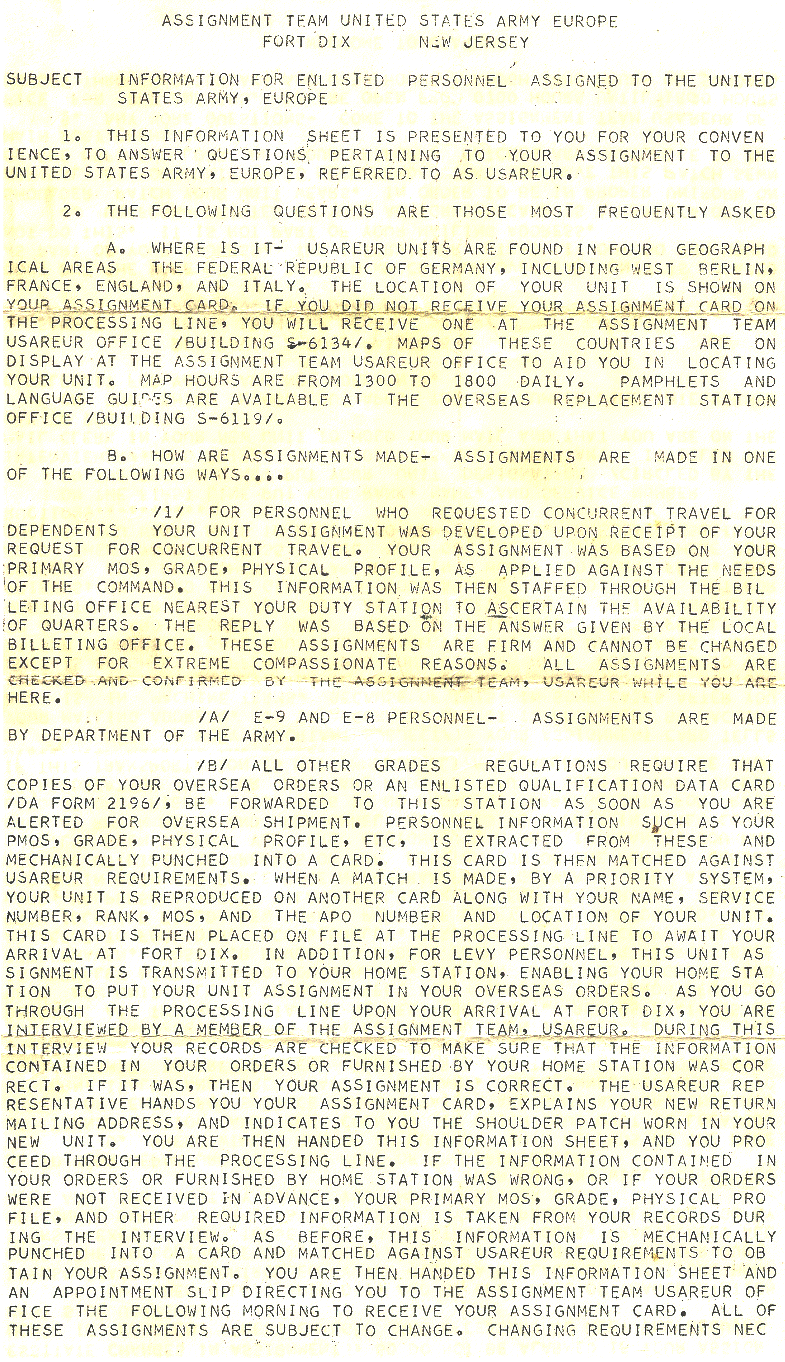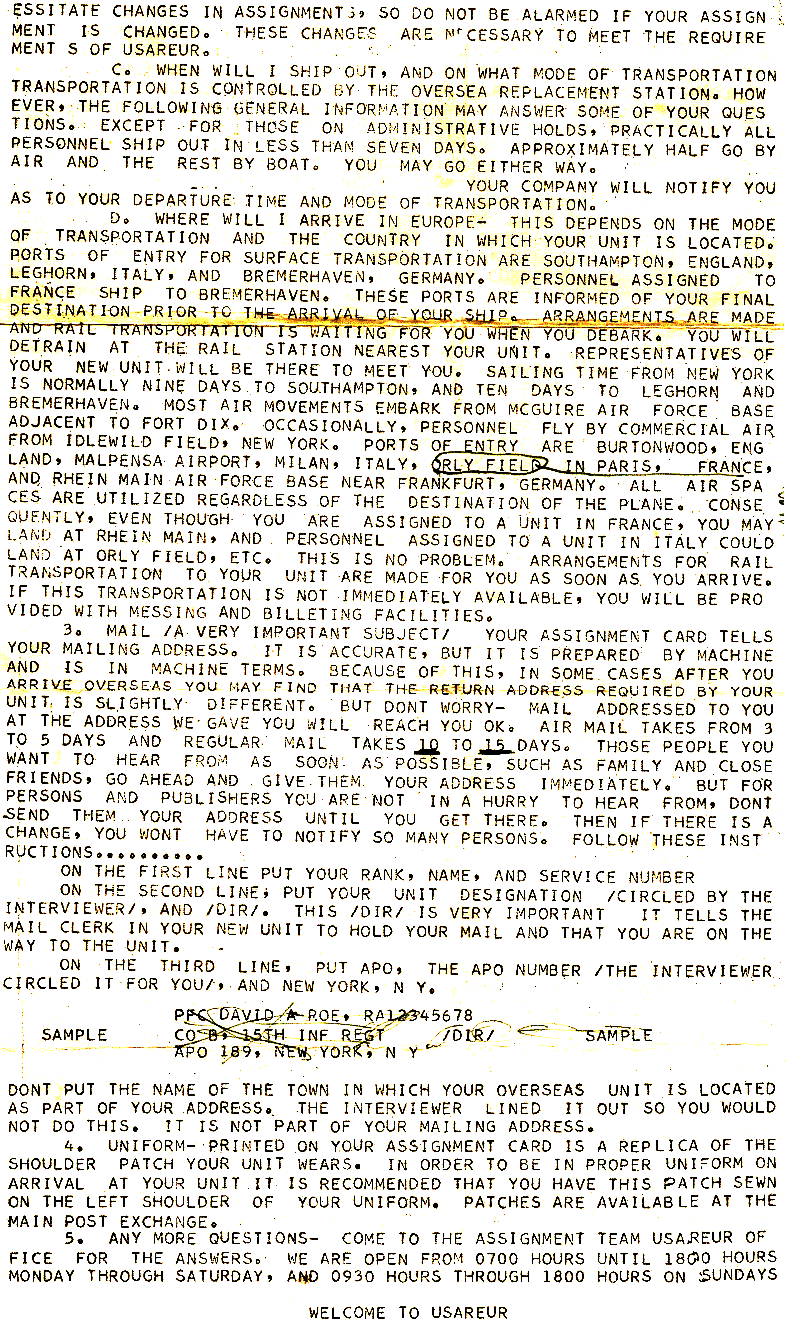 ---
Pat Carmichael, 1956—57:
"Here is what I can remember about the unit:

I checked my military medical records, I was in Co. B. On the way from the repo depot from Germany, there had been a bad ice storm, about two or three inches. We ended up camped out with a transportation company, near Metz, France, that night. A few of us decided to go into town and check out France, as I remember we all had Ft. Hood patches on our left sleeve.

The next morning I had my first hangover in Europe. Got to the 97th the next day. A couple days later, they had me using a shovel and it was raining, a Lt. walked by so I asked him if the company needed a welder, he took my hand and took me to the CO, he asked me if I had any problem working with a colored soldier, of course I didn't. They took me to the little welding shop and I met my new boss. He said that is your chair, there are the girly books and here is the whisky. I was back in Korea! Home away from home.

I remember the billets were the shape of a twelve man squad tent but were more permanent, there were two pot belly stoves like we had in Korea but they were coal burners, not diesel like in the Chosen. We had to go on the roof about every hour and drop a lump of coal down the pipe or they would stop up, The main street was deep mud, but we had to have Class A uniforms on to go to them.

There was no housing for the troops that brought families over, they had to live off the French Economy, coal full of rocks and all. To get to the PX the wives would ride the weapons carrier that went to Verdun every morning, if there was room. The black guy in the welding shop was a professional World War II corporal.

I found the Polish Guard Unit's club which was off limits to us, they had good sandwiches and German Beer. The ice was still on the ground, one night another guy and myself went to a French farmhouse and got a burlap sack full of beer, pigs and chickens were in the kitchen. We didn't have a pass to get off the compound, I was carrrying the big bag of beer, we heard a Jeep which was MP's, the road had a steep pitch to it but the ditch was on the other side of the road where we could hide, my feet went out from under me and the sack was first to hit the road. Broke some of the bottles, big ones with round rubber stoppers on top. We had enough to get drunk on, lucky us.

I would say that conditions in the 97th got much better after I left looking at the pictures on the web site. At the time I was there, the area was a medical cassern (SP). The doctor was commissioned a 2nd Lt. in our Army but had a very heavy Polish accent. He is the doc that put me in the hospital, he didn't even try to treat me as I remember. Sent back to duty March 8th, 1955 but was back in the hosptal in Verdun by the 14th. back in the 2nd General Hospital on the 18th. It was brand new, paint was hardly dry.

Check out this: 44th ECB Korea, on your browser. I have a message posted on the site but no replies yet. Most of the guys in the unit were draftees and were older than me. I was 70 in Feb this year, a lot of those guys are probably dead. All for now,

M. R. "Pat" Carmicheal"
---
Peter Bridges, 1956—57:
This adds a little to what Pat Carmichael wrote for this history page:
"There was no housing for the troops that brought families over, they had to live off the French economy, coal full of rocks and all....

I arrived in Toul in January 1956 as a Pvt. E-2 assigned to Company B. Next morning we five or so new men were trucked up to Verdun to report in to battalion headquarters. The personnel officer, CWO Jay M. Jones, looked at my file and said "College graduate. So you can type." I said Yessir, I was a college graduate but I didn't know how to type. He said "I need a clerk. You can type." So I got transferred to headquarters and began to type.

My wife and I had gotten married the previous June in Illinois but had seen little of one another since my enlistment in August. She was working in Chicago, but she was going to pay her way over to France and we were going to find some way to survive on a private's pay.

She arrived in France in March 1956, and what helped save us economically was a quirk in Army regulations. In Germany, as I recall, married officers and married enlisted men who were at least corporals with seven years' service were entitled to government quarters. In France there were no government quarters—but an allowance in lieu of housing was paid to men who had their wives with them—and it was paid to privates, too! It was forty dollars a month, and we moved into a garret in a plumber's house at Rue St. Sauveur 38. We paid him 15,000 francs a month rent, which was just about forty dollars at the official rate of exchange.

Pat mentions coal full of rocks. Our problem was not exactly rocks. Our little garret was heated by a little Ciney coal stove that proved quite efficient at first. Our landlady, Madame Prèvot, explained to Mary Jane that for the stove she must buy the coal "tout petit" sold by the coal man who came down the street every couple of days with his horse and wagon. At that point my wife's French was about as good as mine, which means non-existent. She thought "tout petit" must mean cheapest, and that was what she bought. After a while the coal stove began to smoke, and we couldn't figure out what was wrong. One cold night before we went to bed my wife opened the window so some of the smoke would disperse, put on her coat, and joined me in bed. It was a rickety narrow bed that the Prèvots had provided, and when Mary Jane got in it collapsed. My wife said, "Go get Madame Prèvot. Go!"

So I did. When the landlady came up and took a look at the smoke, the open window, and my wife lying on her side in the broken bed, she laughed. And, thank God, so did my wife. I guess I did, too.

Things got better after that. Madame Prèvot explained that the tout-petit coal was the anthracite that came in small pieces, not the cheap soft coal we had been using. And then came the Furniture Sale. The year before, 1955, the wartime powers that occupied Austria—Americans, British, French, Russians—had signed the Austrian State Treaty that brought an end to the occupation. A lot of the furniture from the U.S. housing for married men in Austria was shipped to a hangar at the air base in Etain, and went on sale one Saturday in 1956 for married officers and men. We got out there in our little Austin A-40 at 0500 and were almost first in line. We got a fine big bed, an upholstered chair, and a small refrigerator—until then we had stored stuff on the window sill. Over the next year we learned some French and got to be friends with the Prèvots and found life away from the Caserne Maginot was not bad. I did not envy my buddies who lived in the barracks. And I did not think of extending my enlistment.

Peter S. Bridges, ex—SP4"