220th Reconnaissance Airplane Company




February 2004 CATCOM E-Newsletter



"Catkillers"
and Family,
and all Friends
and Brothers in Arms,
in memory of those who have served
MILITARY FUNERAL HONORS FOR COLONEL HILLMAN
Colonel John L. Hillman passed away February 1, a well-know soldier and officer who served his country with distinction. The following is for those who did not have an opportunity to know Colonel Hillman nor to read his obituary:
OBITUARIES [Okmulgee Daily Times News]
2-3-04
JOHN L. HILLMAN

John L. Hillman, Colonel AUS Retired, longtime Okmulgee resident, died Sunday morning, February 1, 2004 at his home at the age of 91. He was born at St. Catherines, Ontario, Canada on September 30, 1912 to Hector and Mary Hillman.

He graduated from Okmulgee High School in 1933 and on September 4, 1934 enlisted as a Private in Company K, 179th Inf. Regt., 45th Inf. Division. In 1937 he became employed at the Okmulgee Post Office as a clerk and married Geneva F. Betts on October 17, 1938 in Sapulpa. In 1940 was inducted into Federal Service with the 45th Inf. Div. On February 8, 1941 he was commissioned to 2nd Lt. And assigned as supply Officer in Co. G 179th. In April of the following year he was promoted to 1st Lt. Commander and assigned XO of Company D at Ft. Devens, Mass., and was later assigned Company Commander and went overseas, entering North Africa on June 22, 1943. He was transferred to Company C as Commander and departed North Africa in July 1943, going to the beaches of Sicily. He received a battlefield promotion to Captain on October 4, 1943. He later served as Commander of Company I and M and took command of an Anti-Tank Unit. On reaching France, Captain Hillman transferred to 3rd Battalion as executive officer where he was promoted to Major on May 16, 1945 and retained this rank until the end of the war. He was assigned to the Bn Ex Officer and then to the Battalion Commander of the 409th Infantry prior to returning to the United States in September 1945. He was released from active duty on January 22, 1946 at Camp Chaffee, AR. While serving in the Officers Reserve Corps, Colonel Hillman was promoted to Lt. Colonel. When the 45th began to reorganize in 1946, he once again became involved. He was assigned to the 2nd Battalion 279th Inf. Regt. As Commander, and when the 2nd Battalion Headquarters was moved to Tulsa, the Regimental Headquarters was moved to Okmulgee, where he was assigned as the Regimental Executive Officer. When the 45th was activated in 1950, he was transferred to the 3rd Battalion as Commander. When arriving in Japan he was assigned to the 2nd Battalion and remained there throughout Japan and Korea. He returned in March 1952 and discharged at Camp Chaffee, AR. Once again he returned to the Okmulgee Post Office as a mail carrier, and remained there until retirement in 1976. In 1952 Lt. Colonel Hillman was assigned to command the 279th Inf. Regt. and was promoted to Colonel on June 23, 1953, where he served until April 30, 1959. On May 1, 1959, the 45th was reorganized and Colonel Hillman was assigned to command the 1st Battalion Group, 279th Infantry. He retired from the Oklahoma Army National Guard on January 1, 1961 and was assigned to he U.S. Army Reserves.

Colonel Hillman attended the U.S. Army Infantry School, Command and General Staff College, the U.S. Army Air Defense School, and the Atomic Weapons GM Orientation. His many awards and decorations include The Silver Star Medal, Bronze Medal Star, 2nd Reserve Forces Medal, Oklahoma Long Serve Medal, American Defense Medal, Victory Medal World War II, Combat Infantry Badge, Combat Infantry Badge d, European Theatre Ribbon, Army Occupation Ribbon (Germany), American Theatre Ribbon, Army Occupational Medal (Japan), Korean Conflict Ribbon, United National Service Ribbon and Six Overseas Bars. Colonel Hillman was preceded in death by his parents and wife, Geneva.


[survivors and family information omitted.]
Colonel Hillman was the father of John S. Hillman, Catkiller 46/3. Charles Finch sent flowers on behalf of the Catkillers, and we thank him and Jerry Bonning for their quick response. John and Heather, you and your family have been in our thoughts and prayers.

Grayson Davis sent this comment that reflects the sadness and concern everyone felt for John and Heather's loss, and it represents a sentiment all comrades find rewarding:

"I had my regular Tuesday morning breakfast with [my friends and associates] this morning, one of whom flew with the Griffins in Vietnam. He has always been amazed, and pleased, about how the Catkillers have stayed in touch over the years. He was as excited as I was about our reunion. This is just another example of that closeness [as we, as a group, responded to the news of Colonel Hillman's passing, funeral arrangement information sent by Heather Hillman-Easley and [Redacted], and the flowers Charles sent].

Thanks Charlie."
PRAYERS NEEDED:
Cliff Hughes and his wife, Connie Hughes, attended the reunion, and many of you met them. Below is a photo of Connie and Cliff taken at Las Vegas. Since October, Connie's doctors discovered that cancer had returned and has now grown more serious. She is taking chemo therapy and is holding her own, so long as the therapy continues. Please pray earnestly for her and Cliff, as they both go through this difficult time. Let's remember John S. Hillman, too, as he is also taking the same treatment. To John: "Fight, Fight, Fight!"
Added 15 February2004: Cliff sent an e-mail message today stating that Connie passed away early Sunday morning. Funeral services will be held in Tulsa on Thursday, and funeral arrangements are below:
"My wife passed away at 0324 hrs., Sunday morning. She is in a much better place. She fought the cancer for 3 years and finally it was just to much.

Sincerely, Cliff"
Connie is at:
Whinery-Huddleston Funeral Home
6210 NW Cache Rd.
Lawton, OK 73505
Tel: 580-536-0211
Viewing is from 9AM to 9PM, Tuesday(17 Feb) and Wednesday (18 Feb)
Funeral services at:
Westminster Presbyterian Church
7110 West Gore Blvd.
Lawton, OK 73505
Tel: 580-536-0444
Service at 2:00PM, on Thursday 19 Feb
There are a few more on our list who are also in the thoughts of those who know them; Mark Duenow, for one. If there are others, please let us know. As you read this, I hope you are as comfortable as I am in faith that to the Supreme Commander, above, we are all the same in His eyes.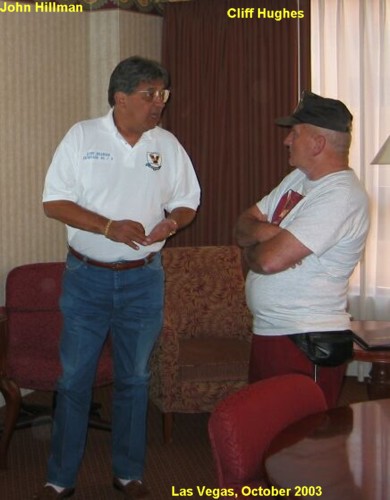 The maker of our Catkiller T-shirts, Leon Skeen, sent this on February 13:
"I just wanted to let everyone know that if you don't hear from me for a couple of days, I am going to be rather busy. My father passed away early this morning. The service will be Sunday [February 15].

Leon Skeen"
Leon, the Catkillers send our condolences to you and your family.
This came in from Charles Finch, 27 February, about Lynn Bumgardner:
Catkillers:

Bum called me this afternoon to tell me he was recovering from prostate cancer. He had the prostate removed and it appears they got it all. He sounded great and was looking forward to getting back in the cockpit.

He will be out of service for about 6 weeks. Cannot lift anything heavier than a phone book he said. Keeps him from picking up his 6 month old grandson.

The email that he is reading these days is

LWBumgardner@cs.com



I am sure he would be happy to hear from you.

Charles Finch
CAT THE KILLER
This is a very gallant looking Cat, indeed!

E-MAIL LIST UPDATE:
Catkiller Wade Godfrey, e-mail: wado2@earthlink.net, of the 2nd Plt, Sep'69-Sept'70, call sign Catkiller 23, checked in. It's good to have you with us, Wade!
Catkiller Gordon Grier joined the list near the end of February, so this is an add-in note:

I was a pilot with the 220 RAC Catkillers in Phu Bai, 4 MAR-14 DEC 71 . Flew the DMZ, QL-9, Rockpile, KheSahn, BaLong, and A Shau Valley. Flew in support of OPN LamSon 719 (OPN Dewey Canyon II) in Tri-borders.

CO was MAJ Johnson, succeeded by CPT David Sapp. Went to WOC Flight school with Brown Cabell and reported in country with him. He and I became the Co Maint Off"s. The Company "stood down" DEC 71, d/t Nixon winding down the war. We all flew the birds down the coast...a flight of approx 20 acft in ragtag formation!... the 400 mi to Long Thong [Thanh] and turned them over to the ARVN's. Then We DEROS'ed!

Returned to Ft Lewis with Cabell as well. He stayed in. I got out...taught high school history x 6 years (economy was tough in early seventies...remember?). Went back to school ultimately doing residency in anesthesia. Reentered Army 1982 as 2LT working at Walter Reed Army Medical Center x 6 yrs, transfered as CPT to Ft Devons Army Hospital, MA x 5 yrs, went to Saudi-Iraq with 46th Combat Support Hospital (CSH) in OPN Desert Storm. Afterward, ETS'ed from active duty. Joined Army Reserves, made MAJ. Currently civilian administering anesthesia at small community hospital, Newburyport. MA. Live in a picturesque, "storybook" town...Exeter, NH. That's me in a nutshell.

MAYDAY...Would BE GREAT to learn of other Catkillers and get in contact with them. FYI: the PIC of the birddog with the vertical and horizontal stabilizer all shot up had a subtitle, "who did this?" ans: CPT Richard Wright in support of OPN LamSon 719, landed safely KheSahn where photo was taken.Thanks for the inital response.Chio. [Thanks, Gordon, the photo has been updated.]

Gordon's e-mail address is: gordongrier@comcast.net
This note came from John Holihan Sr.:
"Don,

I just found Catkiller 42 from Dong Ha. He was one of the original guys who formed that platoon along with me. He was CWO Mike Tommarchio, e-mail: skypilotsix@cs.com Thanks. Glad to hear your health is better since you stepped up your idle speed. Catkiller40/1967,

John Holihan

[Recently found] Mike Tommarchio (Catkiller42), welcome back to the roster."
By the way, John Holihan is a widely traveled biker, and his trip report from Baltimore to California is at the newsletter site. Thanks for sharing that excellent bit of writing with us, John.
Charles Finch made contact with Roger Bounds (rsbou@eotnet.net), and we welcome you, Roger. Everyone e-mail Roger and tell him what a great reunion we had:
"Catkillers:

Short talk with Roger Bounds tonight. He is still in Hermiston Oregon, doing real estate. He dropped off for two years and is very sad at missing the reunion."
Scott Cummings reports another Catkiller located. Welcome, Larry!:
"Don, I have a buddy, Larry Huston, who wants to get the newsletter. His address is huston@hyperusa.com . He was on the flight line in 67-68. Thanks,

Scott"
Finally, this came in from Robert C. Mulcahy:
I just found your site. I was assigned to the 220th from Oct 70 till Sept 71, the maint plt NCOIC most of my tour. I saw many folks' photos that I knew.
HOW MANY CATKILLERS AND FRIENDS?
Because of the growing threat of computer viruses and people and their Internet Service Providers not allowing mega-multiple addressee messages past their firewall (this is the most plausible reason I could think of), I have broken down my e-list into six groups. You will see the Cat Group number at the tail end of group messages that go out from my computer. New additions will go into Cat6. There are 130 Catkillers and friends on my lists:
Cat1 begins with Al Paulsen and ends at Dennis Iaeger.

Cat2 begins with Dick Tobiason and ends with Jack Bentley.

Cat3 begins with James A Niemi and ends with John A. Hillman.

Cat4 begins with John Stokes and ends with Pete Blevins.

Cat5 begins with Phil Lowentritt and ends with Warren B. Taylor.

Cat6 begins with William Hooper and ends with W. W. Nunn.
Look at it this way: This is just another way to get your names in the news.
In the event your e-mail is highly filtered, and you don't want these bothersome e-mails from the place they originate, just keep checking the newsletter page for updates. I consistently get bounces from Yahoo, AOL, Hotmail, and MSN ISPs. Skip Dent's and Mark Duenow's e-mail addresses consistently bounce and are off my list.
JOE MEAD REMEMBERS JOHN HILLMAN:
Soldiers influence one another, sometimes for a lifetime. You never know who will remember you:
Don

During my service with the Catkillers, "Cpt" Hillman was in charge or the Operations office for a while, I sure do remember that. After a few days of shuffling papers he got tired of that and busied himself elsewhere. He sure was not one to sit still from what I could see. Interesting I can still remember his Southwestern voice on the radio as he called in at take off or on the way "home" in the late afternoon. When I look back in my life I can remember a ton of detail for the time period Oct 1, 1968(the day I got drafted) to May 25th, 1970 (the day of separation at Ft Lewis,Wa. on my way home from Phu Bai). Other time periods come and go but the spell as a citizen soldier will be with me always. Thank you for passing along the news [about his father passing away].

(Sgt) Joe Mead
CATKILLER HISTORY
I could not pass up the opportunity to use at least one photo, well sort of. This one might interest anyone who was in the 1st Platoon, 220th RAC, and it comes from one of those lucky guys who found himself connected with the YO-3A:
"Here's a 220 RAC Patch.

The original is in great shape/never used. If it relates to the YO-3A, I want to keep it for our people. If it does not, I'd rather a 1st Plt. person has it and it [is] up for grabs (Gratis). Tell me where to send it.

PS:: We're working on our patch [a YO-3A patch]. I've given one to an artist to restore, digitize and reproduce. If anyone has a pristine one that I can borrow, please let me know or scan it on a flat bed at high res and FWD. I can also scan the 1st Plt. patch at high res, if wanted.

You may post on your website. [Dale Ross Stith]"
So, here is the photo of the patch. Anyone interested in owning this patch, contact Dale Ross Stith, at dalerossstith@netzero.com.
Thanks, Dale. If no one claims the patch, I will hold it for the next reunion (Don Ricks):
ANOTHER REUNION?
Hello,
I was in the Danang Platoon during the 66-67 period... one of the "first replacements" for those that came over originally.... several of us from that platoon and time frame are going to try to get together in the summer of 2005 for a fishing/sightseeing trip to Sitka, Alaska.
I'm going to invite all Catkillers and would like your help to do so. The cost for a basic 3-day trip, from Seattle, is about $300 per person r/t air fare, $80 and up per day room double occupancy, for fishing (not mandatory) $300 per day per person.... 2 days recommended... likely we'll be going in July, so, Silver Salmon and Halibut would be the fish. Sitka is the old Russian Capital of Alaska.... lots to see and do... wives would love it... we spent our working life in Alaska and Sitka is my wife's favorite community. Once going up this far.... one should consider seeing more in the area at least.... Glacier Bay, Juneau, Skagway.... also there is a lot more to see further north for those who wish to continue.... Dawson City, Yukon (the old Klondike), Denali Park..... Fairbanks, Valdez (and Prince William Sound), Anchorage, Homer... and many exotic (and expensive) places. We would need to know who was going by about November, 2004 to assure booking space.... hotels are the problem.
Anyone who is interested in going should go to a bookstore and purchase a 2004 Alaska Milepost (out in March)... lots of information here.....
Norm MacPhee
normac@direcway.com
A LITTLE BIT MORE PHU BAI HISTORY:
Alan O'Hollaren's 212th CAB photo annual for 1971, page 4: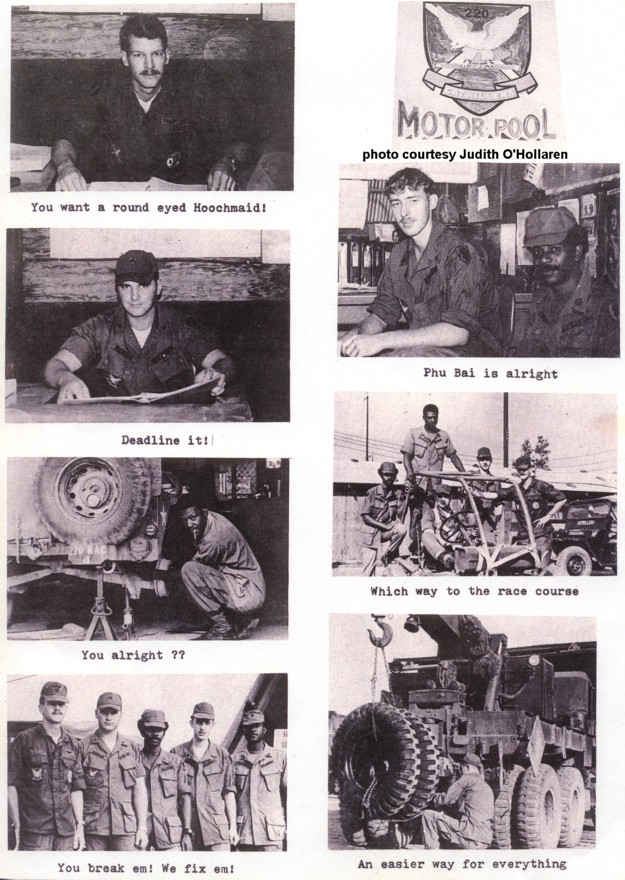 This is part of a e-mail from a retired FAA co-worker in Nashville, who was surprised at my association with the Catkillers, which I recently revealed via the newsletters (small world, indeed!):
Don, I just finished looking at the info on the 220th site. I found it very interesting, and it actually brought back a few memories. Although not a member of your unit, I was stationed at Phu Bai for a good part of 1964 - 1965. I was assigned to what was then Det 1 of the old 3rd RRU (RUSTY RIFLES, we called it. We lived in the stables next to the old French cirle sporte (White Elephant) We were in support of I corps and what was called a MAAG UNIT that lived in the white elephant. About half of them were Aussie ground troops. At the time, we were the only aviation unit (1 Beaver/1 U-8 ) that was permanently assigned to Phu Bai. We had a small wooded building that we used to pull maintenance on the Beaver and any maintenance for the U-8 was performed at Danang. We got our fuel from a fuel bladder over at the small citadel strip for the beaver and at Danang for the U-8. We were part of ASA, and I mainly flew the area mentioned in your site. I flew north to QuangTri then west over cason Later called Khe San then along the border all the way down to Ashau Valley area, then back over the hills to Phu Bai. Back then, it was pretty good duty. Rarely picked up a round or two and usually didn't even know that till we got back. The U-8 was primarily used for flights further west, if you get my drift. Once again, thanks for the info and stirring up old memoirs. I'm new at the computer so please disregard spelling and general structure. Regards. Ray McNew
YO-3A PILOTS & UNIT PERSONNEL NEEDED!
The YO-3A webmaster is looking for former pilots, crew chiefs, mechanics, support personnel, and Friends. Plans are being developed for a YO-3A Reunion in Dallas. See their YO-3A Home Page for more details and other interesting reading. [Added to this newsletter 2-11/04].
INTERNATIONAL SPACE STATION VIEWING
This came in from Jack Bentley, and it is another example of the wide variety of interests our Catkiller family members reveals about themselves (Thanks, Jack). Just click on the NASA SkyWatch link:
I have been watching the International Space Station fly over for the past couple of years. I found a NASA web site that gives sightings by city, time, date and direction of travel. Just click on the city closest to your location and it will tell you when to watch for it. I have never seen anything in the sky that I didn't enjoy watching from birds to rockets! It is visible to the naked eye in the early mornings just prior to sunrise or in the evenings just after sunset. Anyway, if you get time check it out. Here is the link:
NEWSLETTER INPUT WELCOMED
If you have something to contribute, please send it in. History, stories, praises, memories, or just share your wisdom. The CATCOM CENTER is still active!