CATCOM DYNAMIC E–NEWSLETTER, 2017
Published: 19 February 2017
?
LIST OF ARTICLES: (click to go direct)
Tom Adams finally checked in! He was the Assistant Maintenance Officer in 1968–69, with a call sign of Catkiller 09. I received an update from Tom for his roster line and post his response:
I retired from the Army in 1988, as a CW4 with 32 years service and then went to work for PETROLEUM HELICOPTERS Flying Bell 206s and Supper King Air 200ís till 1999 when I retired for real. I retired from US Army Special Operation Command, MacDill AFB, Florida, and stayed inTampa. The family liked the area when we first arrived in 1980, and we bought a house near MacDill AFB in 1981 and stayed there after I retired. My work with PHI did not require a move since I was working on a l4 days on, 14 days off schedule for one year in the Gulf of Mexico and then a 28 on, 28 off when I started flying Supper King Air 200ís and Bell 206s in Angola, Africa.

Tom Adams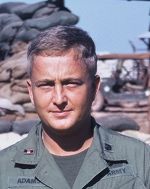 This email from Gary (with roster updates) contained so much historical content that I could not just extract some of the data–type information and let the rest go:
My first assignment was to the 2nd Platoon (Catkiller 23 for 7 months) in Hue Citadel, since most of the pilots had been wounded at a downtown incident. All of our aircraft were burned during TET, and we were surrounded in our MACV compound for almost a week before evacuation to Phu Bai.

After an R&R in Hawaii to celebrate our first anniversary and very few missions due to aircraft shortages and monsoonal weather, I received the opportunity to join the 1st Platoon (10 for 3 months) in Dong Ha to replace a fallen Brother.

Finally, Millard Pedersen (RIP) appointed me 1st Platoon Leader (16 for 1 & 1/2 months) during John Mulvaney's (RIP) extension leave.

Many peaks and valleys accompany the above, and I hope to finally submit my narrative on the above this year. Also, I'm once again "garage diving" for photos per Ray Caryl's blanket request.

Excuse the verbosity; however, I now take every opportunity to speak proudly of this marvelous year, rather than enduring the pain of silence. Notice I left sufficient room for my obituary, and I doubt the necessity to comment on how that will be displayed sometime in the next 25 years.

Many thanks again!!!

Gary O'Shields, Cakkiller 23/10/16

PS: You are hereby designated LOTCOTS, aka "last one to close out the site," so plan on writing and posting your obituary just before everyone else has left the building. Just leave your end date open, and the National Archives can ink in your final date; and launch our Catkiller Site into heavenly, aviation posterity for all our Brothers to share. [In a later response to the (*) asterisk entry below]

*[If I am still around when you need an obit service, I will certainly add yours to the roster. If you find that I checkout before you, please see that some competent person (who knows what to do with a web page) posts mine. That seems to be my greatest worry: being the last one to close out the site. Don Ricks]
Tucked away in secret places—like old footlockers, file drawers, show boxes, etc.—are photographs of you, you and you. And, you. Proof comes in the mail, via email and, once in a while, through my iMessages account. Even I discovered the other day–that my files include photos taken in 1969 with one of those spy cameras I wisely purchased at Clark Air Force Base Exchange in the Philippines, one with a little silver (and slippery) case. Tucked away in several minitutre slide cases, essential the size of the camera itself, are photos from my unbelieavably quickly–passing Jungle Survival School Course. These little gems on the tiny slides show the unpretentious members of the tribe of extremely talented native guides that took us up into the hills to show us just how little we knew about survival in a jungle environment.

Last year (not long ago), Jerry Spette, July 1968–Nov 1969, shared with us a photograph of Steve Grass, my platoon leader in late 1969, and I did not even recognize him. Several others did, and they were certain it was Steve. Now that I consider their overwhelming assertion, the image of Steve is more clear, and I recognize him. Just a week or so ago Jerry shared another photo from his secret place that provides a good frontal shot of himself, and a cockpit view of another person, initially identified as Bob Arrington. Bob's response was negative, but his wife said, "Now, hold on there, Bob, [she must have been watching ESPN Sports Center where Lee Corso says it], that 'is' you! Now, he agrees that the young, serious looking fellow is indeed him, or as Charles Finch wrote in his most accurate response:
"That is Bobby Arrington in the cockpit in my opinion.

Bobby is probably looking at the pre–start checklist, as he always had trouble getting the airplane started. We needed pictures for Bobby. He has his M–16 with, him so he may be looking for operating instructions as well.

Charles Finch"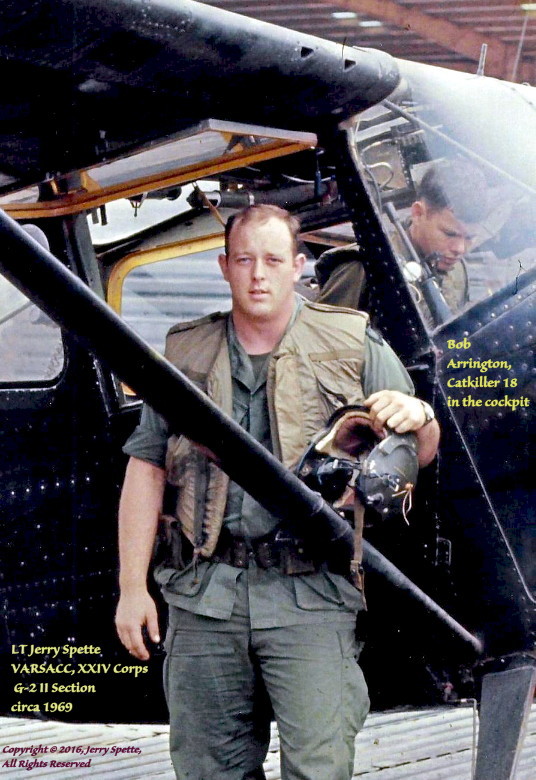 The All Birddog Units Reunion 2017 hotel facility is the Sheraton Pentagon City Hotel, Arlington, Virginia. The block availability period is from 14–21 August 2017, with our group rate availabile until 24 July 2017.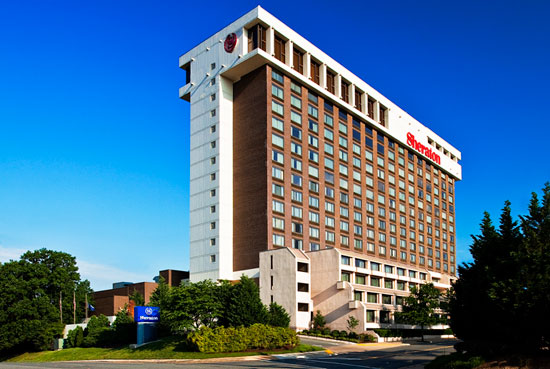 Bob J. Wooley is the designated lead planner for the 2017 All Birddog Units (All US Services & Allies) Reunion in Washington, DC, on 17-20 August 2017. The event is being shepherded, as in 2104 at Dothan, by AFRI and local area planners. The posted website has pertinent information for the event (registration, attendee list, schedule, hotel HQ, etc.).

Start making your plans!

Editor
Update: 15 February—REGISTRATION FORM AVAILABLE:
I received an announcement from Ellie Wilson, with an obituary and memorial service scheduled for her late husband, Gene Wilson, as presented in the document provided:
Gene's memorial is set for February 18th here in Lakewood. My entire family will be here over that weekend, so it will be a busy time. I am so grateful to have their strong love and support.

Memorial/Obituary Press Release

Obituary

Ellie Wilson
The family of Col (Ret) Donald Eugene "Gene" Wilson created this Life Tributes page to make it easy to share your memories:

Tributes page
Memorial Service, Lakewood, Washington:
Catkillers Dick Tobiason, Larry Deibert and Al Paulsen attend Gene Wilson's memorial service yesterday at Christ Lutheran Church, Lakewood, Washington. Navy ANGLICO Jeff Thompson also attended.

It was a grand ceremony complete with full military honors led by Colonel Robert Howe (Senior Army Aviator stationed at Ft. Lewis).

I made a short presentation on behalf of all Catkillers. Attached are photos

RIP Gene Wilson.

Dick Tobiason, Catkiller 26
Memorial Service Photos: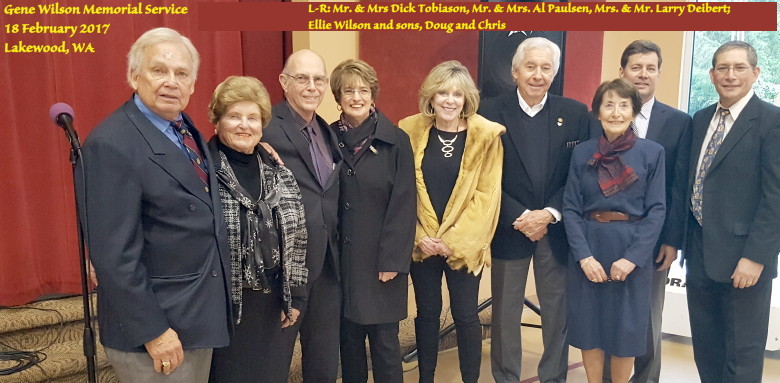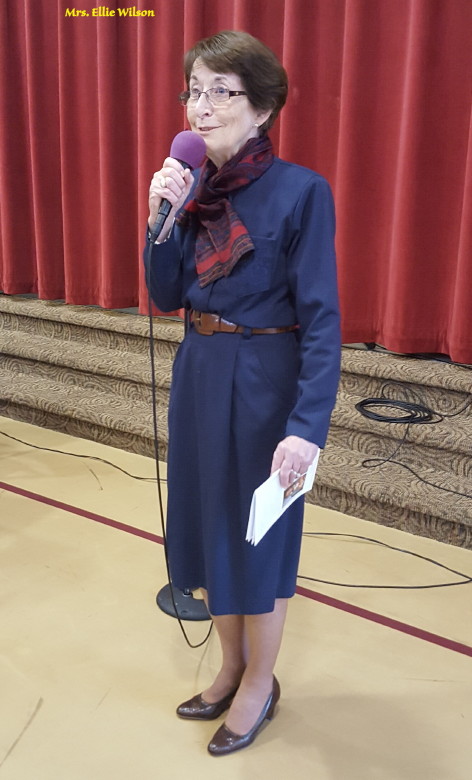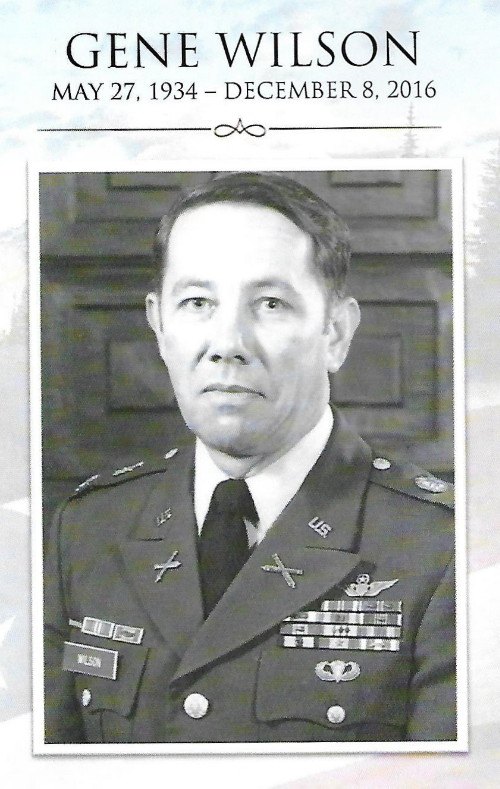 Rick Vosburgh, who is a close friend to Dennis Iaeger, sent a text message that stated Dennis had called call last night. During their conversation Dennis revealed he has stage 4 lung cancer and doesn't have a lot of time left (4 to 10 months, depending upon treatment options). He asked Rick to pass this along to the webmaster. Rick confirmed that it is bad news but that Dennis is a very positive person, as always.

This evening, I spoke with Dennis at length about his situation and was lifted by his positive, Christian attitude and outlook. He is open to commications, as you wish, but know that he might have limitation as to how long he might be able to speak with you. Dennis states that he has excellent medical care at the local VA clinic/hospital.

For any who served with Dennis during 1969 and 70, please keep him and his family in your thoughts and prayers and let him know your sentiments:

Dennis Iaeger
1700 Wendy Lane #3
Carson City, NV 89706
(775) 600-7589

Don Ricks
Webmaster, 220th Aviation Company