Third Quarterly 2014
CATCOM E–Newsletter
Updated: 29 August 2014
Dick Tobiason has made good use of his volunteer time in his home state by working on this worthy project:
Dick spearheaded the Vietnam Veterans Memorial Highway signs project in Oregon honoring ALL Vietnam Veterans. Fifteen signs will be installed along 370 miles of Interstate 84 in Oregon adjacent to the Columbia River with about 8 signs in each direction. Idaho has followed Oregonís lead by designation its I-84 as the Vietnam Veterans Memorial Highway. Below is a photo of his crew of 8 Vietnam Veterans installing a sign. Dick wears the white hard hat. Vets with Cavalry hats are members of the 1st Cav. Association Chapter in Oregon. This is an Oregon State Council Vietnam Veterans of America project.

[Dick Tobiason, CK 26, 1966–67]
---
GET TOGETHER IN NEW HAMPSHIRE, THE REST OF THE STORY:
As the website states,"Portsmouth, New Hampshire, a city of roughly 21,000 people, sits near the mouth of the Piscataqua River, a short, wide river that divides New Hampshire and Maine."

It is also where several connected Catkillers and a Command Aircraft Company veteran and ladies gathered for a good time and to rekindle friendships. Dick Eklund and Charles Finch (not present here) are connected through their Delta Airlines service. Part of the rest of this story is that they are all friends, and the lady sitting below Sarge is the widely respected, loved and admired stand–by–your–man wife, Lydia, who has been there for Dick through recent tough times, medically speaking. That Dick enjoys sitting there taking in the beautiful scenery and in the company of such friends is a miracle.

Being the editor also of the Longtrip.com (CAC) newsletter, I also understand that among the several reason Dick Eklund smiles is that he has a strong will to live, an infectious determination and many people encouraging and loving him. Dick, it is very encouraging for us, too, to see you there in that beautiful photo (made possible by the ladies, of course, and Jerry DiGrezio!):


---
Don Long, Catkiller 18, is a fisherman!
This is taken on my front porch, holding a 10 pound Steelhead I caught in Oregon's McKenzie River, Friday, August 1, 2014. If you send it to the others they can look at something besides cartoon bronze Birddogs for a change!

My recovery from spinal cord damage continues, but slowly. Steelhead fishing is slowing down but pheasant hunting is just over a month away.

Very best wishes to all of you,

Don Long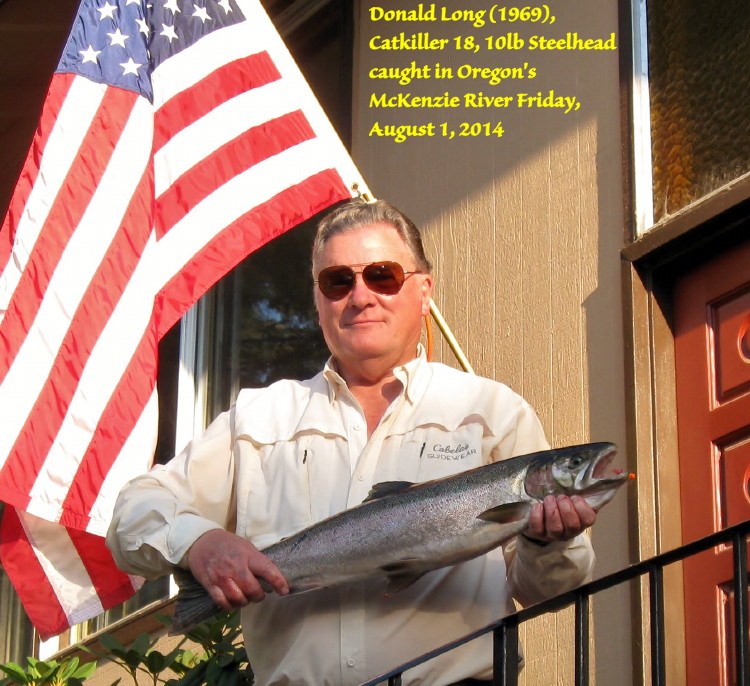 Comments:
Don:
The great photo of Don Long and the Steelhead brought back memories of a time about 10 years ago when my wife and I were enjoying dinner at the 1790 Club in Savannah when my cell phone rang. It was Don Long, calling from the West Coast—to APOLOGIZE to me for deceiving (his word) me some 35 years earlier. Don sent the attached photo and short narrative which tells the story. He also sent me some other photos, two of which found their way into Jim Hooper's great book about the Catkillers, one on the cover. Another one was of him with another steelhead he had just caught. Quite a man, was Don Long—some of the stories about his assignment before coming to Phu Bai are spellbinding—at least the ones I heard were. I tried to get him to send the story to Jim Hooper for possible use in the book, but he refused. [I take full responsibility for posting this "rest of the story." The photo evidence also goes to show that Roger Bounds is not TOTALLY innocent/blameless in the area of pranksterism while a member of the unit, as one might believe from the New Jersey incident related by others and corrected by Charles Finch. Roger has yet to make comment about that one. Editor]

My best to you.
Ed Miler, CK 6, 1969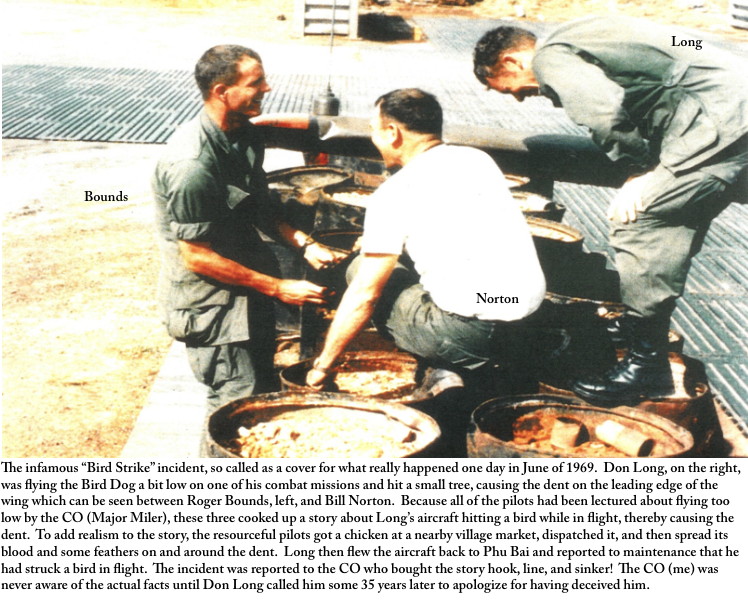 We received an email note from Robert Philippe Marchand Jr., eldest grandson of the late Lt. Col. (Retired) Walter L. Strain, 3rd Marine Division AO Section Chief, July 1966–July 1967. Philippe says he has some photographs and other historical document he is currently going through with the thought of sharing anything appropriate with us. The obituary for LTC Strain is now posted at his roster line and below via a link to the Find–A–Grave site shown. We regret that at such a late date we can only send our condolences to the Walter Strain family. Anyone having information, photos and documents pertaining to Walter please share them with our historian. A condensed version of Walter' obituary is above the obituary link:
Raymond G. Caryl, Catkiller Historian (Aviator, Catkiller 32/42, 1967–68); and Dennis D. Currie, Assistant Editor (Crew Chief/inspector, Quang Tri, Phu Bai—1966–68, now have their contact email address available at the lower part of the Cat Bar. While the duties of the volunteer historian are as complex and varied as he chooses to make them, our Assistant Editor will soon have a statement of volunteer actions he willingly accepts as part of his efforts to assist you and the editor in the posting and maintenance of material on our site.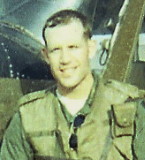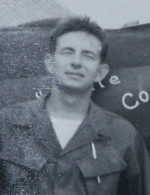 L–R: Ray Caryl, Dennis Currie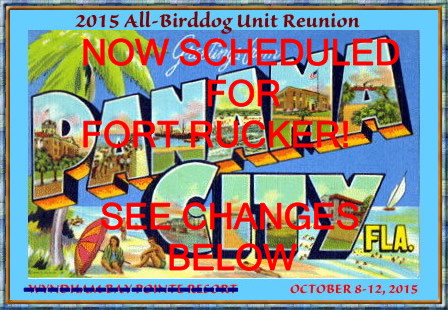 After several conversations with some of our members who express interest in attending the 2015 All–Birddog Reunion, it is obvious that some have missed the point about the suggestion for early registration. Here is the reason, as best I understand it: There are only so many rooms available at the WYNDHAM BAY POINT RESORT in Panama City. When the room available drops to zero, surrounding hotels will be used. There is every good reason to get your reservation early, as there is no charge for the reservation and the cancellation policy is reasonable:
The children of Bob Cortner, deceased, have a scheduled memorial service for their father at the Alabama National Cemetery, Montevallo, Alabama, at 11:45 AM, Wednesday, 16 July, 2014. Both Army and Marine Honor Guards will participate. Additional schedule information will be provided by the family as soon as possible. There will be an opportunity for anyone who wishes to speak briefly at the service:
UPDATE: 17 JULY 2014:
On this beautiful day in Alabama, July 16, under clear skies and at a truly beautiful forty–five–acre Department of Veterans Affairs facility, a final resting place for our veterans and their loved ones, the family and friends of Robert Morgan Cortner, Catkiller 13/28, gathered to honor him with a warrior's memorial interment ceremony. Bob's daughter, Melissa Cortner Puyot, and son, Robert M. "Rob," Cortner II were thorough and particular in this last act for their father and mother as they arranged and scheduled the interment at the Alabama National Cemetery.

Also present were Bob's older brother, CW3 (Ret) William "Bill" Cortner, younger sister, Linda "Sissy" Cloys, younger brother, Greg, several grandchildren, and his deceased wife's brother. Several spoke at the beginning of the service, including Bob's children, his brother–in–law, Connie Keltner, widow of Tony Keltner; and Catkillers John "Bear" Kovach and Don Ricks. After the service, those attending drove in procession through the cemetery to Section 9 for the final interment at the gravesite. Robert M. Cortner II, the youngest child, constructed the metal box in which Bob's ashes were placed atop those of his wife, Bonnie, who predeceased Bob and whose interment was exactly one year ago to the day, in Section 9, Site 452: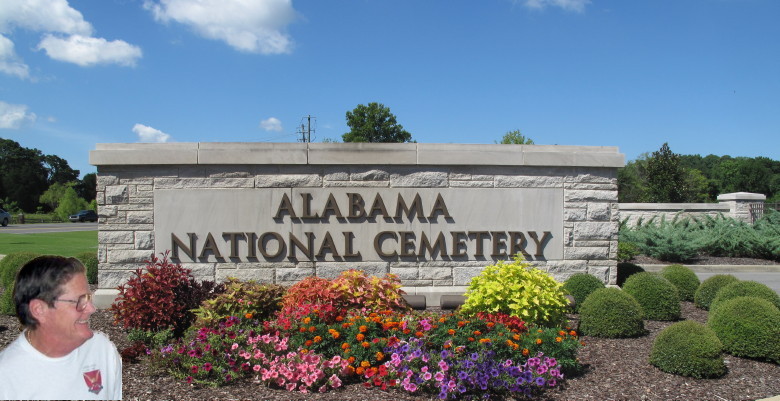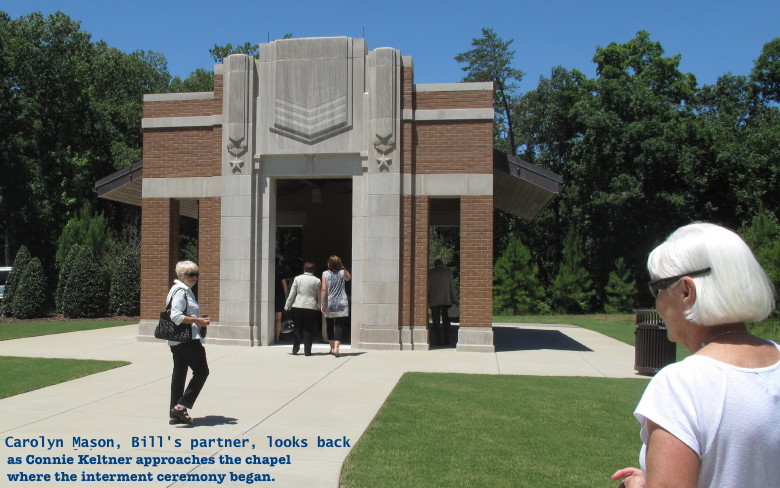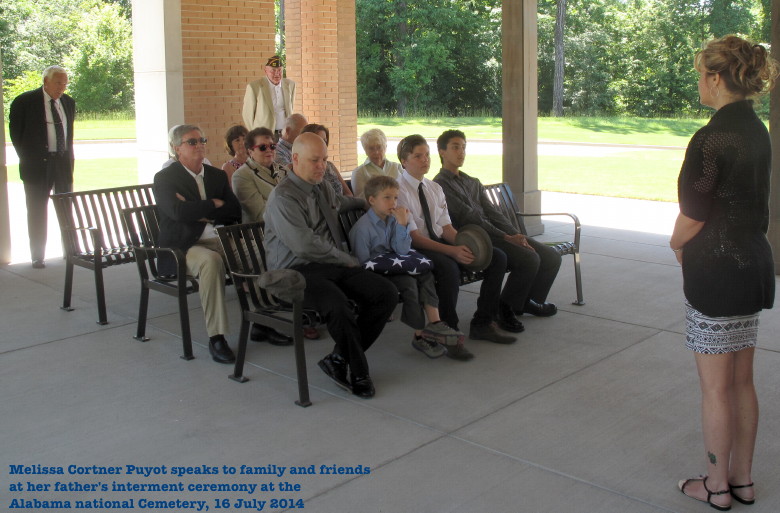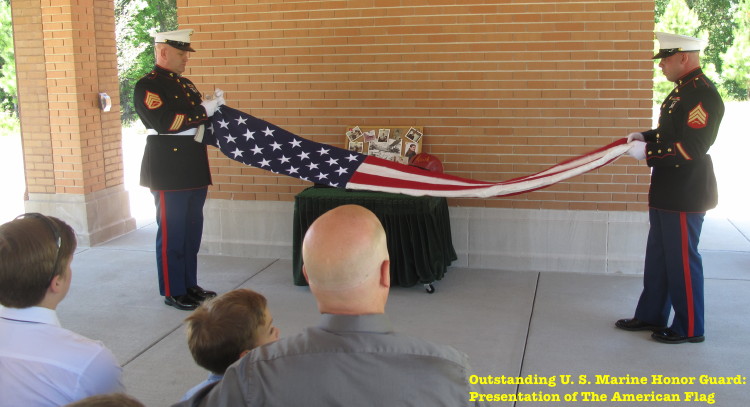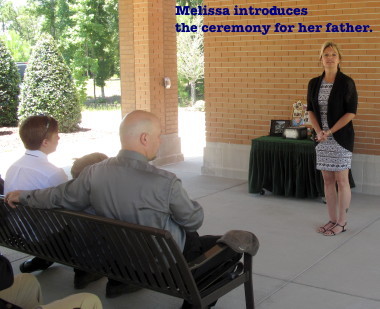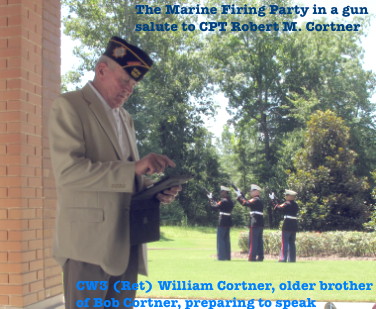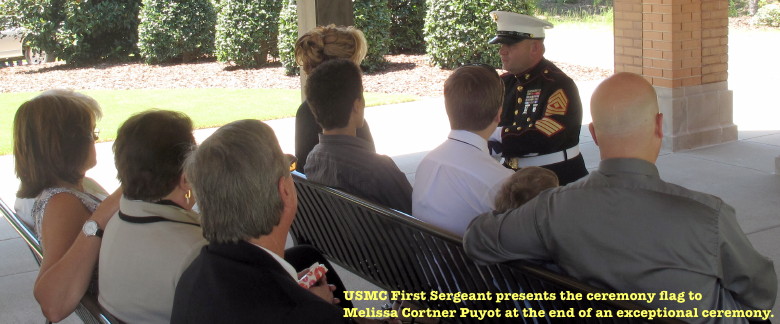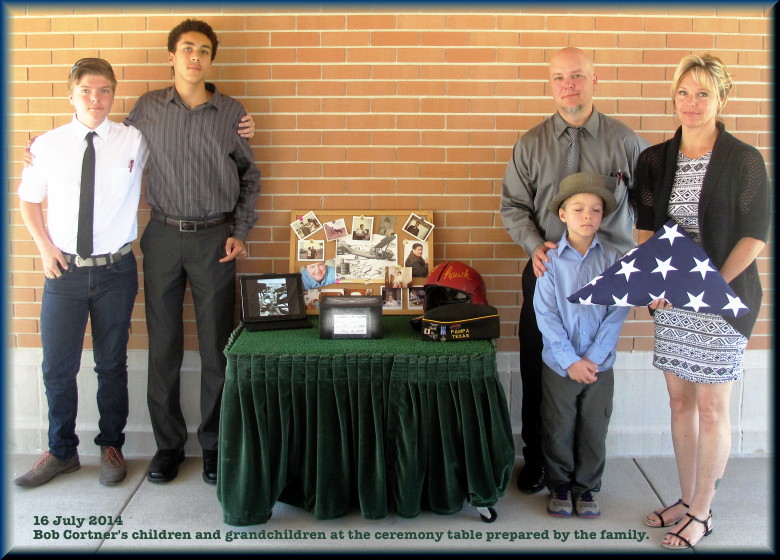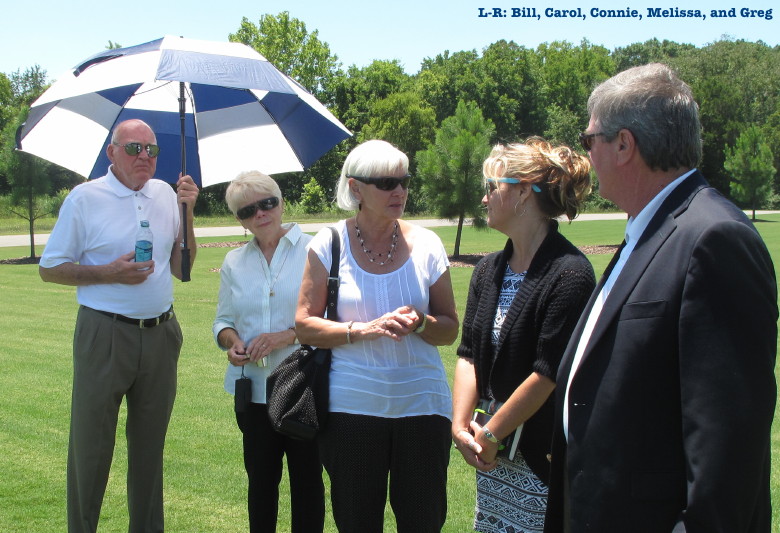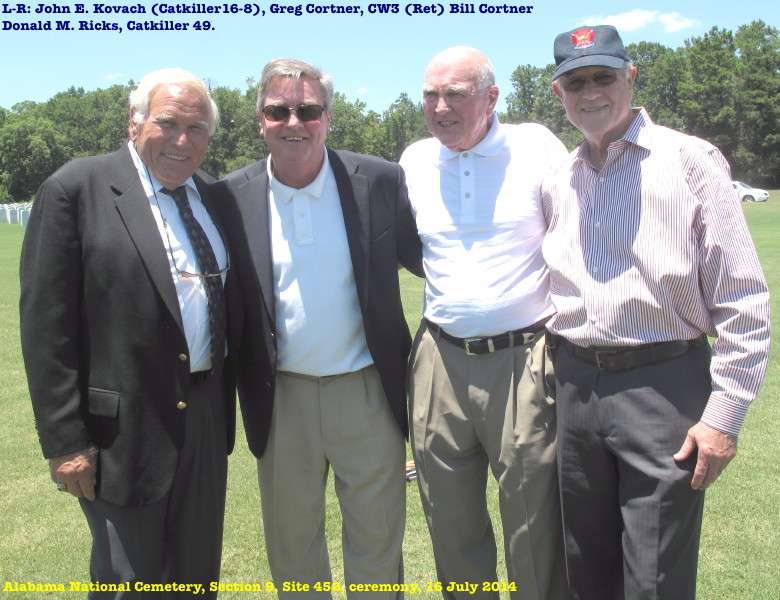 Yep, a much needed addition to the unit roster makes it easier to navigate through the list alphabetically, and there is a link to quickly take you back to the top of the index (back to top). Many thanks to our hard–working, ever slaving webmaster for doing this—about a decade too late!
The success of recovery and identification results seem to be in favor of WWII and the Korean Conflict. The list is enlightening, to say the least (plus additional links):
In a letter from Catkiller 6 Ed Miler comes information about a recent memorial erected and dedicated atMARINE CORPS BASE QUANTICO, Virginia to a group of Marines—who contributed a high percentage of ultimate sacrifice to the peace and security of these United States.

With deep regard for the painfully necessary, relatively short-lived monuments that most often do not tell the full and detailed stories, resplendent memorials such as these serve as name–only remembrances of those who died, even one who tragically lost his life in the cockpit of one of our aircraft, First Lieutenant Michael "Mike" Stuart LaFrombosie. Sadly, even we do not have the full biography of the life and contributions of Mike, whose name appears listed with the others somberly honored on the reverse side of this monument: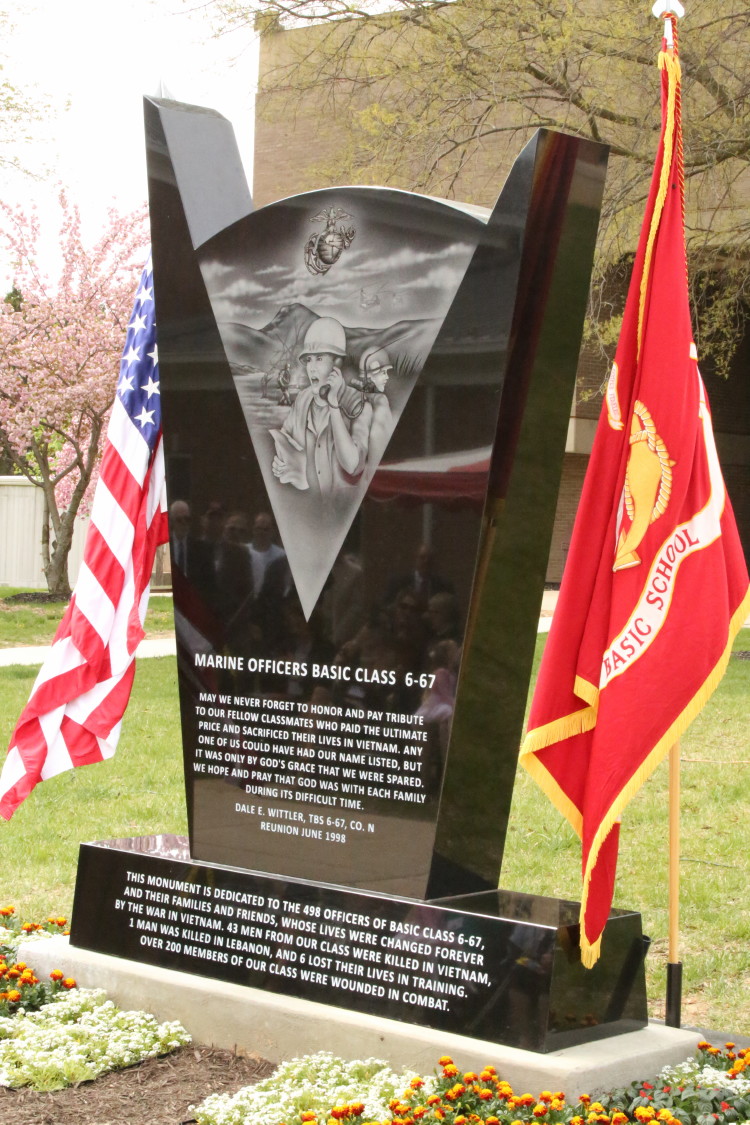 For a more complete source of information regarding Class 6–67 click on the class designation.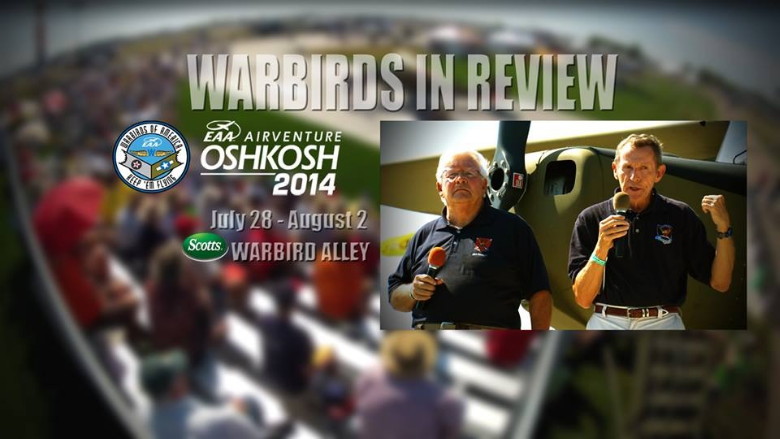 Charles Finch and Doc Clement will speak at the Oshkosh event this year, at the Warbirds Section. Specific times are at the WARBIRDS IN REVIEW BIRD DOG AND CARIBOU page. If you are in the area, drop by and join in the fun.
Update (Oshkosh photos by Charles Finch), 5 August: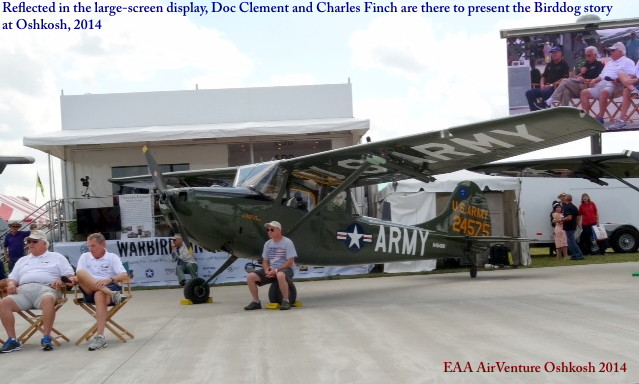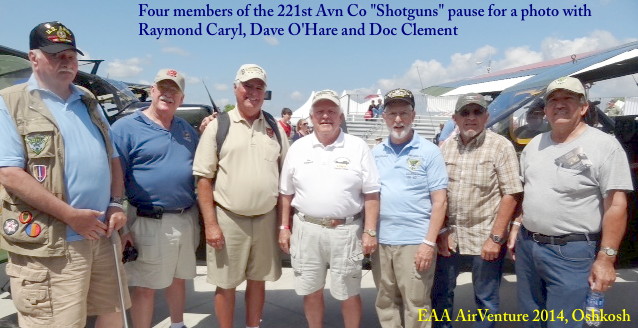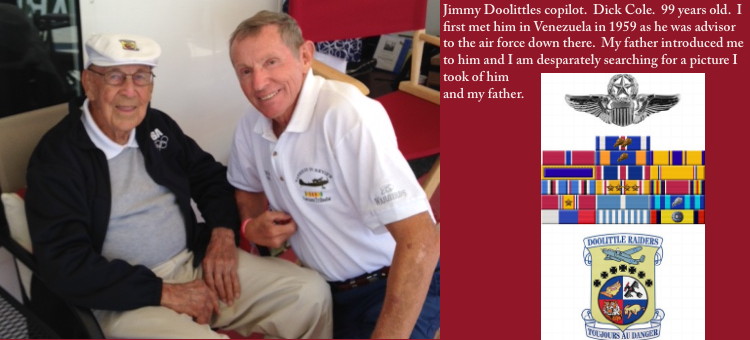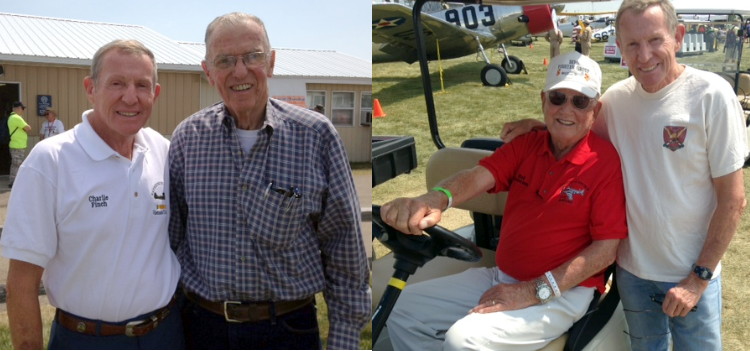 Immediately above:
MG Patrick Henry Brady: Talked about his book, Dead Men Flying.
Second above:
MG Joe Henry Engle (left w/ Charles Finch) started out in Air Force. He was with Chuck Yeager flying X–15s and flew the space shuttle twice.
Clarence Emil 'Bud' Anderson (right w/ Charles Finch) was triple ace in WWII, also a wing commander in Viet Nam.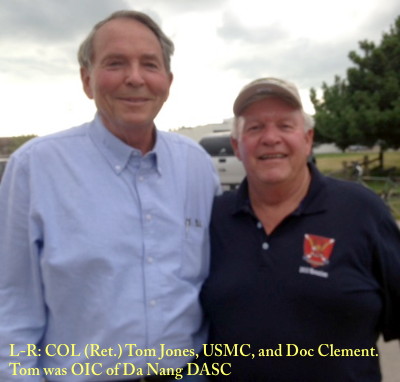 The list of US Military Veterans History at Amazon.com now shows Jim Hooper's A Hundred Feet Over Hell at number 1.
Congratulations to Jim Hooper and all who contributed to help put it together!
It would do our nation good if many of our limited–vision leading men would again represent what our country was founded upon and be those men again. Leadershipis one asset we could use more and more of these days:
The effort to upgrade the caricature aircraft model currently atop the All–Birddog Unit Memorial to a realistic replica of the aircraft continues. Rod Stewart's latest July 2014 briefing is in PDF format and attached below:
There is a new history page available, thanks to the writing skills of Jim Sheets, an original member of the advance party of Catkillers and Company that arrived in–country in 1965, and by the artful assistance of Dennis Currie, our very busy and helpful Assistant Editor. Thank you, Jim, for taking the time to share your experience with us. The file is also available via the Catkiller History Index, History 1965 Section:
Several weeks ago we received an inquiry from Larry Flinn, Web Coordinator for The International Birddog Association (IBDA), who posed a question following his receipt of an inquiry from a gentleman from Framce. Since that person had visited our web site and offered a Catkiller.org photo showing the object of his request, Larry sent the note on to us for a possible "best" answer. Easy for me, because I knew just the right person to handle the inquiry—I pushed the matter to a higher level via email to our Catkiller Historian, Raymond Caryl.

A few days went by and I could just sense the head scratching out in Arizona, but then Ray wrote that he had the situation under control and expected solid results any day. During the two weeks following his receipt of the initial email there were numerous commernts from several people, but Ray was keen in his approach to the correct answer and went on to demonstrated rare human methodology and acumen that would have made a Tennessee Bloodhound jealous. After all, this was a French inquiry, and the French are known to be the first to bred the dog know as the Bloodhound. Well, anyway, in conclusion, before I am acused of comparing Ray to a Bloodhound, I have better stop and get to the point, intelligently arrived at by our own (two–legged) sleuthing, Ray Caryl:
Original Question: A French Birddog owner sent me this. Do you have any information that might help him ID the flare mod on the Birddog in the photo? [Larry Flinn]

Here's the background on the smoke grenade mounts on our Birddogs: [Ray]

"I spent some time checking and found that neither the Marines nor the Air Force had anything similar. I also researched as many Bird dog photos as were readily available and came to the conclusion that the smoke grenade mounts were unique to the 220th RAC. This made sense to me, as we were the only Army Birddog company that routinely (and most likely exclusively) acted as TACAs (Tactical Air Controller, Airborne) and even came out on official Marine orders designating us as such. WE had a requirement to be seen by Tac Air and aircraft of the other Birddog companies did not as they had to call in their resident Air Force FAC (Forward Air Controller) to run Tac Air. The Air Force jealously guarded the right to do that. Guess they never realized who was running their jets in I Corps, or maybe their pilots didnít mind as much as their turf-protecting generals.

I contacted John Kovach who was the 220th Aviation Company maintenance officer in late 1968. He told me that they were already on the 4th platoon and some of the 1st platoon aircraft when he took the maintenance officer job. He also informed me that they were not on the 1st platoon aircraft in late 1967 when the platoon was down at Quang Ngai, Vietnam. It was only after they moved to the DMZ to fly with the 4th platoon that they began to appear. I know that they were not on any of the 3rd platoon aircraft while I was in the 3rd platoon from July 1967 to February 1968. I do not believe they were on any of the 2nd Platoon aircraft either.

This began to narrow things down a bit. I asked Dennis Currie about it, because he was in maintenance, and he told me they were on the aircraft when he was there. He told me that he would contact some of his maintenance buds to see what they might come up with.

Just today, I thought to call my flight school pal, Rick Johnson (CatKiller 44), to see what light he might shed on the subject.

JACKPOT!

Me: "Hey, Rick, do you remember the smoke grenade mounts that we had on the side of our aircraft? I'm trying to find out whose idea it was and when they came up with it."

Rick: "Sure. It was me. I got to the unit in May 1967 and went straight to the Fourth Platoon up at Dong Ha. I soon discovered that the jets were having a hard time seeing us because all we had were the white tops of the flaps, ailerons and elevators on an OD airplane. I came up with the idea because the ground troops used smoke to help us find them, so it just followed that smoke would help the jets find us. I came up with the basic design and it got tweaked some by maintenance. That's why there were two slightly different mounts. One flush mounted with rivets and the other slightly elevated with rivets. I had them use thin steel straps with a quick release lock to hold the grenades in place. I believe there was room to mount three smoke grenades. I think that I came up with the idea sometime in September 1967."

And there you have it. If the jets were having a hard time finding us, we would go into a tight circle, have the AO pull the pin on one of the smoke grenades and the jets would quickly see us. I donít remember having to use it but maybe once or twice. We didnít have TACAN like the AF (and probably the Marines) but I remember drawing 10 degree lines radiating out from Channel 109 (Dong Ha) and a couple of ten mile arcs to help us get the jets to us. The DMZ was such a small, focused area that it worked.

OK, amigo, there you have it. Rick Johnson, CatKiller 44, came up with the idea and design in September 1967 and worked with the maintenance guys (one he remembers is Sgt. Long) to fabricate and mount the smoke grenades on the side of the 4th Platoon aircraft. As suspected, the smoke grenade mounts were unique to the 220th RAC. Once again proving that WE were THE MYTH MAKERS.

Ray Caryl"
Old Georgia saying: "Every now and then even a blind hog [or dog] gets an acorn [rabbit]."

Editor's Note: The photo shows a 1st Platoon pilot Ned Wilson standing next to the grenade mount aircraft.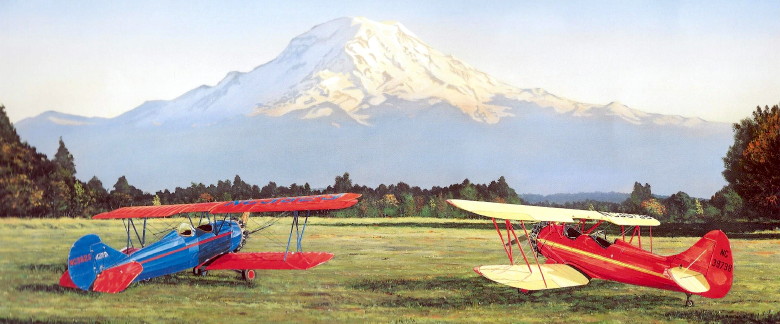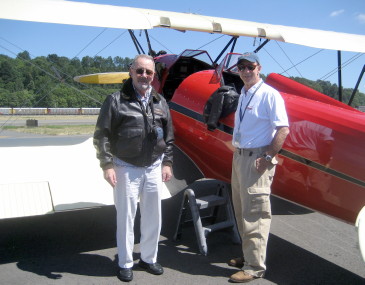 When our sons, a former Army Med–Evac pilot and a former Navy A–6 pilot, visited over the 4th of July and we went to the Boeing Museum of Flight, we not only got to watch our grandson, Michael, build and launch a small rocket and see the new exhibit, the YO–3A, on the ground floor of the museum, but I later got the attached Gift Certificate—which Ellie arranged for us to take advantage of yesterday afternoon.


On a beautiful day in Seattle we had a thrill of a lifetime when we took off to the south, turned right to Vashon Island and climbed to about 2500 feet under the approach path to SEA–TAC Airport. Then we flew cross–country to Bremerton and the Hood Canal Bridge where we turned back toward North Seattle and then down the city skyline over the Sound (in a single engine biplane) on a long final approach to Boeing Field and return to the Museum of Flight. Total ETE from take–off to touch-down was about 1 hour. Quite an experience!



Gene Wilson

Editor's Note: That is a classic way to enjoy retirement, Gene and Ellie!
For those who wish to return to Vietnam there is a 2015 tour of the southern part of Vietnam beginning in January. Use this link for further details: